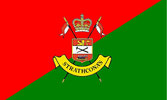 Strathcona Family Roll
Once a Strathcona, Always a Strathcona is a motto LdSH(RC) stands by. As you may have read in the 2021 Regimental Society Newsletter, we are looking to update our Strathcona Family Roll to ensure we have your most up-to-date contact information.
In the Calgary days of the Regiment several individuals, including Mucker Langan, volunteered to put together and maintain a Regimental Family Roll. The Family Roll, currently maintained by the Commanding Officer's Secretary, is separate from the Regimental Roll (serving members) and National Association Membership List.
However, the Strathcona Family Roll is not just for the Society and Regiment. It is also a great tool to reconnect old friends from the entire Regimental Family. Although the Family Roll is not publicized, many Strathconas have been reconnected with old comrades simply by reaching out to the Regiment or Association.
If you are a member of the Regimental Family, please take a few minutes to fill out the Google Form Regimental Family Nominal Roll Update. This update will also permit you to let us know your communication preferences, as well as connect you with local Association Branches or Chapters if you are not already.
Whether you served 3 years or 30 years, you are part of the Regimental Family. We look forward to hearing from you.