Canadian soldiers running for 2010
Lt (N) Melanie Graham
22 September 2009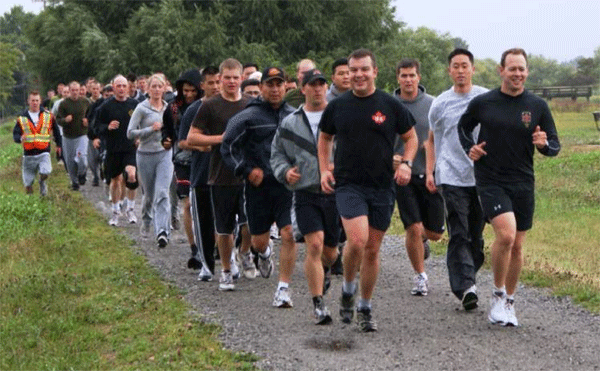 On Wednesday, Sept 9, LCol Derek Macaulay, Commanding Officer of Lord Strathcona's Horse (Royal Canadians) (LdSH(RC))and Maj Christopher Quinlan, Officer Commanding Foxtrot Company, led over 150 reservists from across western Canada in an early morning run along the dikes of Richmond, B.C. The morning run marked the launch of Foxtrot Company as part of the LdSH(RC) led Task Force VANCOUVER (TFV 2010), the western army component of CF support to the RCMP led Integrated Security Unit for the 2010 Olympic and Paralympic Games in Vancouver.

In the winter of 2009, 39 Canadian Brigade Group was tasked to provide a 150-soldier company composed of Army Reservists to work with the RCMP to ensure the security of the a mountain venue in during the games. That result was the launch of Foxtrot Company and the beginning of training in the Lower Mainland. The training objective for the next three months is to meet the required individual and collective standards and cold weather qualifications necessary to support the security operation while learning to work well collectively.

Soldiers within the company will keep a low profile when they deploy onto the mountain venue January 2010. They will operate out of a BC Ministry of Forestry tented camp and ensure that an unobtrusive security perimeter is in place before the athletes arrive to being training in early February.

The military involvement in security for the 2010 Olympic and Paralympic Winter Games is in keeping with a long-standing CF priority to contribute to the safety and security of Canadians at home as well as abroad.

Participation in V2010 ISU will also provide CF Regular and Reserve members with an excellent opportunity to cultivate and practice joint skills and capabilities for domestic operations. The 2010 Olympic Games will see the CF working in support of personnel from the RCMP, Greater Vancouver Area Police Departments and provincial level emergency management organizations.

CF Reservists will make up over 50% of the military support for the 2010 Olympic Games. An operation of this scale would not be possible without the support of their employers. Businesses and corporations from across Canada have provided their qualified Land, Sea and Air Reserve employees with the time off work to serve with the CF component of V2010 ISU. The units contributing to Foxtrot Company are:

· The British Columbia Regiment (Duke of Connaught's Own) (RCAC)
· The British Columbia Dragoons
· 5 (BC) Field Regiment (Royal Canadian Artillery)
· 15 Field Artillery Regiment (Royal Canadian Artillery)
· The Rocky Mountain Rangers
· The Royal Westminster Regiment
· The Seaforth Highlanders of Canada
· The Canadian Scottish Regiment (Princess Mary's)
· 12 (Vancouver) Service Battalion
· 74 Communication Group
· 39 Canadian Brigade Group HQ

Domestic Operations fall under the authority of Canada Command, the Canadian Forces organization responsible for all routine and contingency Canadian Forces operations in Canada and continental North America.

There are approximately 62,000 Regular Force members and 25,000 Reserve Force members (including 4,000 Canadian Rangers) currently serving in the CF.