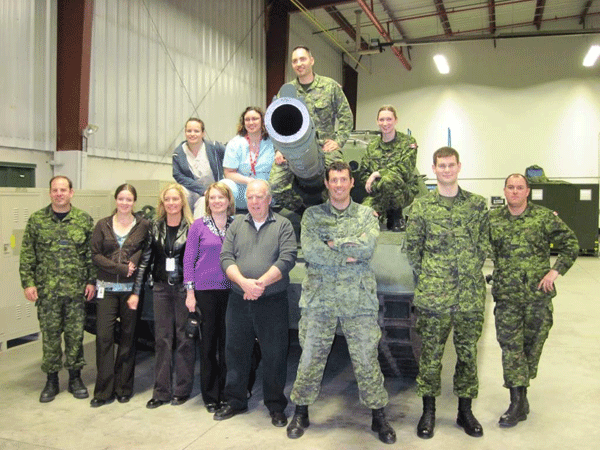 By Lt Chris D. Whalley
15 January 2010

An unseasonably warm January morning was the setting for a visit by 12 personnel from the medical staff of the CDU-C. The visit started out well, as they arrived just in time for coffee and cookies in the Mariner Room. After sharing a couple of laughs and a good war story or two, we were off to tour the Harvey building.

Due to the current operational tempo, vehicles were few, but the historical artifacts and paintings created more than enough conversation. We walked through the lines, stopping to look at the Regimental artwork, awards and honours. During a normal work day, I often walk by many of these pieces of history, but seldom take the chance to truly appreciate each of them. The tour proved to be an excellent opportunity for me to educate some interested guests, while also allowing me a chance to stop and appreciate some of the achievements of past and current Strathconas. Also among the notable stops along the tour, was the Persistent Surveillance System (PSS). Our guests had seen this balloon apparatus in the skies over the past few months, but enjoyed the chance to see it up close, and understand what it actually does!

The final stop along the tour was perhaps the most anticipated. After a quick brief on the Leopard C2 by Warrant Officer Ted Amos and Sergeant Alexander Graf, each of our guests got a chance to sit in and better understand the inner workings of a main battle tank. As a finale, our guests got into the simulator. After a couple of wild shots, they were quick to adapt and settled in with some solid shooting.

Overall, it was an excellent experience for both me and our guests. It was a chance to link in with our great medical staff that work hard to ensure our soldier's well being and show them our appreciation for fixing us after our rough play. It was also an excellent occasion to showcase the honoured history of the Regiment, as well as showing off some of the Regiment's kit to an enthusiastic crowd.