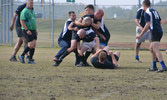 Ex TOUGH CONTENDER 2016
Written by: Capt T.J. Casey
During a time of PCF courses, concentrations and field preparations, members of Lord Strathcona's Horse (Royal Canadian) participated in Ex TOUGH CONTENDER 2016. This year, units provided teams for Rugby 7's, soccer, tactical athlete, and softball. Despite little training time and depleted rosters the teams put forth an excellent showing. The men's soccer team ended up with a strong 4th place finish and scored the second most goals in the tournament. Also very notably was the Men's Rugby team, who entered with a short roster and endured a grueling hard hitting tournament.

On the diamond, the Softball team put forth a valiant showing scoring 16 runs in their first game, and 15 in their second. This high powered offence was the most productive in the tournament, easily outscoring the majority of teams and in no way was indicative of an unfortunate defeat to 1 RCHA and a 6th place finish.

The tactical athlete competition proved once again to be a very competitive challenge with units sending some extremely fit individuals to compete. The LdSH(RC) group showed up energetic and motivated. Despite not finishing in the top 3, the team proved to be resilient, and finished with one of the team's best historic scores!

It is clear this Regiment is focused on its well-rounded ability. It is quite a point of pride for this unit to be able to field teams without dedicating them simply to training for that event. It goes without saying each of our competitors should be very proud of how hard they competed with the very limited preparation time and balancing military requirements. That are the foundation of what makes this Regiment so credible. Again, congratulations to our competitors!