Kandahar Air Field (KAF)
By MCpl Chad Gray (Kaffer)
17 Jun 2009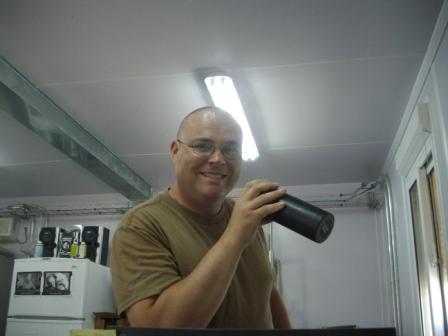 Life in KAF is one of routine and schedule much like as if one were an inmate in a prison. Never being a resident of one of those establishments but having the privilege to have watched enough movies to have somewhat of an idea, I can speculate that the two are very similar. You are surrounded by miles of chain link fence with razor wire and armed guards all around (except in this case the purpose is to keep the bad guys out instead of in), and yes there are plenty or wardens around to ensure that rules and guidelines are followed (such as ensuring the buttons on ones shirt cuffs are properly done up). There are planned meals and times to eat said meals, there are recreational activities, libraries, shopping areas, make work projects and, for some people, plenty of time to just sit and soak up the sun in shorts that would make Daisy Duke blush.
Life here in KAF is a daily grind of eat, sleep, and work that is often broken with some little luxuries that the Forward Operating Bases (FOB's) do not have - such as multiple gym's, the Board Walk (which houses fine establishment 's such as Burger King, Pizza Hut, local vendor shops, and of course the world famous Tim Horton's). There is also a variety of social and physical activities one can attend such as the Friday Night Salsa Dance, Ball Hockey Leagues, and for the soccer fan, a great indoor foot ball area.

With all the luxuries what would people have to complain about? Those who do not have these luxuries would say nothing. But unfortunately people still complain and usually over the simplest things, items such as the Timmies Ice Cap Machine running dry and having to wait for 30 mins until it is operating again; road rage during the evening rush hour in KAF while rushing to get to Tim Horton's before the Ice Cap Machine runs out, just wanting to go faster based on their self perceived importance (Guilty as charged). But when one steps back and looks at the larger picture, all the gripes whines and crying over spilt milk is really rather insignificant when one thinks of the dangers and threats that our brothers and sisters in arms have to face. I salute them, for I wear the dreaded label of "Kaffer" a title I personally hate, but have come to realize the truth of it.
In the end what is KAF really; KAF is a staging ground where multiple nations work together and support our troops who are out in the FOB's and front lines. It also provides a place that where the troops can return too so the can get a little R&R by being able to make use of the aforementioned luxuries, that so many of us who live here, take for granted. In by doing so they are able to recharge their batteries and head back out into the fight to continue doing the great work that they do.