Laferriere's Legacy
By Aspen Gainer
Freelancer
November 2010

Edmonton, AB—Lucien Laferriere was an orphan when he joined the Canadian Forces in 1948. He joined to find a trade to support himself and eventually his family. But Laferriere didn't just find a dependable job; he also found a family. That sense of family was passed on to his grandson, Craftsman Jean Hugues Levesque, who joined the Forces to keep his grandfather's memory alive.

Laferriere was a vehicle technician by trade and served in the Korean War during 1952 and 1953. He rarely talked about military life with his family, even though his military salary was the only income supporting a wife and seven children. However, Lucien began to open up to his grandson in the hospital just before he died. He finally told Levesque stories about military life, the bad memories and the good.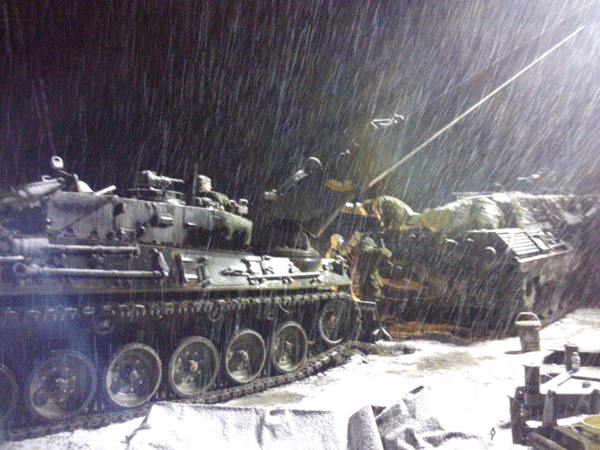 "The first time he went to war, he said he shit in his pants because somebody shot at him when he was trying to fix a vehicle," Craftsman Levesque recalls. "When he told me that, I wanted to see if I would react [to combat] the same way as my grandfather. I'm here to see what my grandfather lived all his young life."

After his grandfather died, Levesque acquired Lucien's statement of release. From the release papers he learned that his grandfather had received two medals during his service in the Forces, a medal for the Korean War, and one for peacekeeping.

In 2007, Craftsman Levesque enrolled in the Canadian Forces to live as his grandfather lived, and to carry on his legacy of service to Canada. Levesque is now a vehicle technician with Lord Strathcona's Horse (Royal Canadians). He jumped at the chance to work with the tank squadrons at CFB Edmonton. "I'm very happy to have a chance to work on the tanks. Maybe it's not the same machine my grandfather worked on, but it's the same mechanism. He probably would have worked on the Sherman [tank]."


It's easy to tell that Craftsman Levesque loves his job, and he seems to have an inborn talent for it. Even as a kid he loved to fix things. Levesque studied mechanics at a civilian school, and at twenty began working as a civilian mechanic. When he enrolled in the CF, there was no question what his trade would be. His other grandfather, now 93, was an aviation technician in the Second World War, so he carries a lot of history and family pride on his shoulders. After his current four year contract expires, Craftsman Levesque plans to sign a twenty-five year contract and continue doing what he loves until he is ready to retire.

As the father of a five-month old baby, Levesque doesn't get to return to his native Montreal very often, but you can tell that his family is always in his heart and his mother and father are happy to come to Edmonton to visit their new granddaughter. When asked if his family is proud of his military service, Levesque said unequivocally yes. "My mom is scared if I go overseas, like every mom, but it is a risk [in service to] Canada." And Levesque's whole family understands that risk—his wife is also in the Forces, as was her father before her.