Lord Strathcona lads show their prowess on the water
By Nick Lees, Edmonton Journal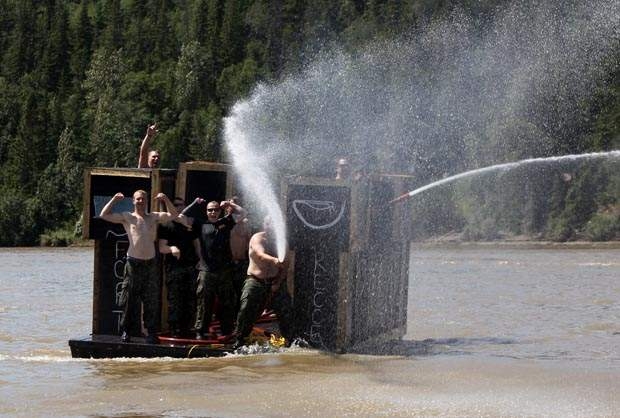 Just back from seeing Prince William and Kate off as members of a royal guard, a group of Lord Strathcona Horse Royal Canadians had three days to build a raft.

"We wanted to show our support for the Edmonton community, which has been so supportive of us," said Cpl. Leon Van Heerden. "We felt it was important for us to take part in the 52nd annual Sourdough Raft Race on Sunday."

Frantic work by a group eight men, who donated their own time to building a raft that looked like an early military fort, paid off. They won the Admiral's Choice award for best raft and were handed a cheque for $1,000. "We owe a big thanks to the First Combat Engineers Regiment," said Cpl. Mike St. Germain, "they provided us with an engine when our own engine failed."

The men donated their winnings on the spot to charity, to the five Rosedale assisted living centres for seniors.

Great guys

The Lord Strathcona lads were a great group of guys who did everything they could to help at the race, said Leon Comer, president of the Sourdough Raft Race Association. "When we arrived for the race Sunday morning, we found the river had dropped about a metre and our 10 rafts were grounded. Their crew pushed every boat back into the river."

The team competed last year at the invitation of HMCS Nonsuch and decided it had to return to do battle with the navy once more.

"It was a pleasure to beat them this year," said Van Heerden.

Crew members of HMCS Nonsuch had decked the army boat - called Recce Warriors - out with navy stickers. But navy crew unknowingly left shore with the words "We love Recce" spray painted on the side of their raft.